---
Eyoyo Underwater Fishing Camera 7
7″ Color LCD Monitor
With 12pcs Infrared Lights
Up to 8 Hours Working Time
MOOCOR Underwater Fishing Camera
Multi-Function Lcd Monitor
Superior Underwater Camera Lens
Long and Strong Cable Wire
GoFish Cam Wireless Underwater Fishing Camera
Night vision green leds
Mobile app integration
Easy in-line rigging
HANRICO Portable Underwater Fishing Camera
A Deeper Fishing Challenge
4.3″ HD Screen with Touch Buttons
Clear and Broad Underwater World
MarCum VS485c Underwater Viewing System
Allows you to switch over to Black and White mode
50-foot cable
800×480 pixels
---
Choose the Best Underwater Fishing Camera
Customer's Choice: the Best Underwater Fishing Cameras
5 users answered this survey. Please help us improve this review!

60.00% of users selected Eyoyo Underwater Fishing Camera 7, 20.00% selected MOOCOR Underwater Fishing Camera, 20.00% selected GoFish Cam Wireless Underwater Fishing Camera, 0.00% selected HANRICO Portable Underwater Fishing Camera and 0.00% selected MarCum VS485c Underwater Viewing System. Every month we analyze your answers and change our rating.
---
When you're seeking a fish, you want to have as many advantages on your side as possible to improve your chances of success. While there are several tools available to anglers for seeing the target with clarity, none is quite as effective or crucial for success as one of the best underwater fishing cameras. After using one, fishing will never be the same again.
The underwater fishing cameras on the market today are versatile and can be used in any scenario. Some of the most cutting-edge and best technology on the market has evolved into precise and dependable tools for achieving the highest possible results from each fishing excursion you plan. We'll show you which models are the most effective on the market, including some of the greatest ice fishing underwater cameras, so you can get prepared with the best gear for every eventuality before heading out.
Underwater fishing cameras are a great way to capture some of the best moments on your next fishing excursion. These cameras come with different features and functionalities, so it can be tough to find the one that is perfect for you. This guide will explain how underwater fishing cameras work and help you choose the best one for your needs. Check the following review of the top 5 underwater fishing cameras.
Eyoyo Portable 7-inch LCD Fish Finder 1000TVL Fishing Camera – the Editor's choice!
The Eyeoyo Fishing Camera is back with a new and improved fish finder camera for displaying fishing locations while targeting fish. Production costs were lowered and the video resolution increased to 1,000TVL guaranteeing that anglers can enjoy clear underwater images of their favorite pastimes.
This durable, budget-friendly camera also contains a removable sun shield so it can be used in bright environments too!
All 12 LEDs emit IR light increasing the efficiency rate by 300%. Lightweight and portable this watertight case will never get in your way when out on the boat or walking through streams looking for your next catch.
The Eyoyo camera is perfect for catching fish deep out at sea, underwater caves full of treasures, or your backyard garden. It comes with a removable sun visor and 12 IR LED lights that make it ideal for both nighttime and daytime use. You'll get clearer images of up to 1000 TV lines without having to worry about running out of battery hours because the lithium battery can last up to 8 hours when in operation.
---
MOOCOR Underwater Infrared LED Fishing Camera – the best for shooting in the dark!
The MOOCOR Underwater Infrared LED Fishing Camera has a long and strong cable wire, making it easy to cast out. The power button just needs a quick touch for a full charge that lasts up to five hours! You'll get fantastic video using the 1000TVL camera with an underwater sun visor and high-level backlight.
This rugged aluminum shield protects against impact and damage, while strong cord wires let it reach deep into any pool of water.
Plus, its low-level lighting mode is so clever – you can film in dark water without disturbing your prey from 0.001Lux of brightness! Whether you're catching fish or exploring the world's oceans during snorkeling trips, this is the perfect buy for you!
This fishing camera comes in two parts: an underwater camera and an HD LCD screen. The picture quality of this device is fantastic. The 1000TVL camera will be able to capture fish, as well as underwater plants, clearly and vividly. With a high-quality lens, the underwater world will come to life. You'll even capture fish in the dark depths or late nights with Far Infrared LED lights.
---
GoFish Cam Wireless Underwater Fishing Camera – the best for deep water!
The GoFish Cam is just the gadget you need for catching that big one! It's perfect for your next fishing trip, or for any time you want to get in on some action underwater. The GoFish cam features full HD video 1080P at 60Fps, 30Fps (on slower devices), and 720P at 60Fps (on slower devices). Unbeatable clarity plus night vision green LEDs make this technique absolutely flawless.
You'll definitely find what you're looking for when snorkeling in deep water or fish-watching at night!
Capable of shooting video in full HD, or stills in 5 megapixels, day or night. The camera also comes with an easy-to-use mobile app that can interact using motion control and handle fast drifts for ultimate stability.
This lightweight and portable camera gets hooked onto your fishing rod so that there's no chance of losing it or dropping into a deep hole. With full HD video at 1080P, 60Fps, 30Fps, and 720P at 60Fps – who knows what kind of fish stories this single device could capture for you!
---
HANRICO Portable Underwater Fishing Camera – the best for heavy fishing!
The HANRICO camera is lightweight, fast, and easy to use! Capture photos and videos of things only seen by divers before. It's perfect for professional fishermen looking to catch their next big catch. This product includes a clear camera lens with an integrated LCD monitor so you can produce superior quality recordings – at 6 megapixels no less.
With the special underwater setting, the entire display will flip when submerged underwater because this piece of kit has 2 lenses – one for capturing images on dry land, another specifically designed to work underwater. The sound auto-adjusts too so that your voice won't distort or be lost underwater either!
This fishing camera has a wide-angle lens with a 200-degree viewing angle, which allows you to have a better view underwater. It also includes a 1000 TVL screen, which is more than adequate for displaying 720 pixels.
The camera may be put on a pole connected to a 12-inch cable that can handle up to 175 pounds of weight. It includes a 4.3-inch touch-sensitive screen with a 1.5x digital zoom and infrared lights for nighttime fishing. The camera has excellent battery life and infrared lights for late-night fishing.
---
MarCum VS485c Underwater Viewing System – the best for durability!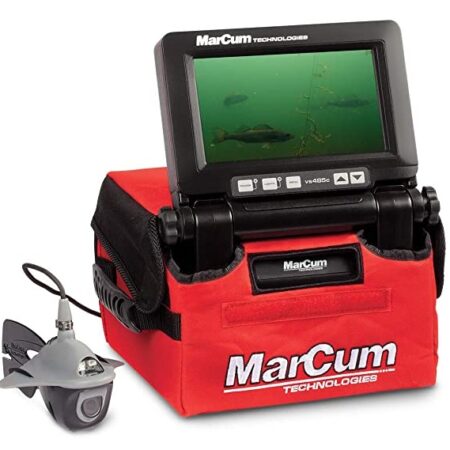 With the MarCum VS485c Underwater Viewing System, you can see what's happening in the dark depths of the ocean with crystal clarity. The 7-inch high-resolution H2D Solar Intelligent LCD Screen has 800×480 pixels so that every detail is visible to your eye. It comes with a CMOS camera that has an extremely low lux rating – it can go down to .01 lux!
That means you'll get clear footage even at night time or when things are really cloudy out. This versatile system allows for switching over to black-and-white mode automatically when needed too, helping illuminate shapes in dark waters where smudging details would be hard to make out otherwise. It also features an RCA video-out jack for easy viewing
The VS485C is the Recon 5's bigger sibling, featuring a larger display and a design that pays homage to pop-ups and shanties.
The VS485C is an easy choice for our top spot because of its strong battery, excellent monitor, and camera. MarCum, like Vexilar, is no stranger to the ice. All-weather durability and a case designed to cushion hard falls are among the promises you can anticipate from MarCum. Where MarCum differs from Vexilar, however, is in image quality; you'll notice it right away.
---
The Buyer's Guide
Why Do You Need an Underwater Fishing Camera?
An underwater fishing camera is the best way to see what's happening at your bait, both day and night. Many anglers who use them swear by them for this reason alone! It allows you to scout before committing yourself or even better find out where those fish are hiding so that you can set up shop there first thing in the morning.
A fishing camera is also invaluable to those who like to fish alone. It allows you to see your bait and how it's reacting, even if the water is too dark or murky for you to do so with your own eyesight.
Pros of underwater fishing cameras:
They allow you to scout new fishing spots and places where fish are likely to be before even hitting the water;
You can see your bait in action, day or night! No more wondering if a certain color is working better than another one. On what camera model you go with which could add up over time if not taken into account from the beginning;
l because you will be able to see any fish that might come crawling up for a bite;
There aren't really too many cons when it comes down to this device. The main thing would probably have to do with size! Also, keep in mind there may be some added costs such as buying batteries or other accessories along the way depending on the camera type.
There isn't really anything negative about them unless you're on a budget! However, there are many cheap models out there which will do everything an expensive one does so don't let the price stop you from getting yourself something that could very well change your whole experience with this sport for the better.
Main Features:
Convenience
When buying an underwater camera, be sure to select one that is lightweight and transportable. Look for a camera with a custom-made bag or container – this way, you can rest assured that your new gadget will be protected during transport.
If you're worried about the weight of your gear (particularly if it has to be carried great distances), go for a lighter model. This does not necessarily imply a lesser product; in fact, some of the best underwater fishing cameras are very light.
You should also think about whether the product appears to be simple to use – complicated and difficult equipment can become a burden on the water, detracting from the enjoyment of fishing!
Screen Resolution
An underwater ice fishing camera's screen resolution is the total number of pixels on the surface of the picture you're viewing. The more pixels there are, the higher the screen's resolution and image clarity will be.  Higher-resolution screens, on the other hand, tend to be more expensive and energy-intensive, but they usually repay their extra costs.
Camera Quality
The camera that records the image is also directly linked to the quality of what you see on the screen. The video resolution is one of the most crucial elements because it determines how many pixels make up each frame of video and how many frames appear per second.
The most popular
frame rates
are 30 and 60 frames per second (fps), with both providing good results while taking up less space on your computer's hard drive
[1]
.
Camera Viewing Angle
When it comes to viewing angles, the "more is better" approach is usually preferable since a wider angle will offer you a greater opportunity of seeing the fish you're after. Models differ in what they can accomplish, but generally, a viewing angle of 130 degrees is more than enough for a fisherman's needs.
Screen Size
The size of the screen has a lot to do with personal choice and how much space you have to carry your gadget, but generally, anything around 7 inches in diagonal or smaller is sufficient to get a decent impression of what's going on around you when you use an underwater camera fishing.
SD Card/Recording
The majority of the greatest underwater fishing cameras will transmit a live signal to your screen or save footage on an internal SD card. Some models can even do both at the same time, but the recording capability will be particularly important for individuals wanting to share their videos on social media.
Before you go out, double-check which feature is available on your camera so that you don't get caught off guard.
Battery Life
The battery life of an underwater camera is critical, and those in the fishing category far outperform other types. Almost all the cameras reviewed in our underwater fishing camera reviews can go for more than 6 hours before requiring a recharge, and many also feature convenient USB charging.
Smaller versions may only survive for 4 hours or less, but they're usually used to capture the bite rather than thoroughly scan the seafloor.
Water Resistance
A good fishing camera should be waterproof, of course. It should also resist water because it will spend its life immersed in it.
Depth and Cable Length
How deep will the camera go is an important consideration when purchasing an underwater camera! It's also crucial to know how long the included cable is – a 50-foot waterproof diving camera that has a 20-foot cable isn't much use.
The IP68 depth rating is common on many underwater fishing cameras. It's a little misleading because it implies that smartphones with an IP68 water resistance rating are waterproof.
However, it's worth noting that an IP68 underwater camera submerges considerably deeper than 3.28 feet and functions without interruption or picture loss. The ranking is more of a manufacturer's promise and suggestion – particularly if you drop your underwater camera while ice fishing and it freezes, rendering it useless.
The finest underwater cameras include temperature readouts on the screen to guarantee you don't operate the camera outside of its recommended operating range. Obviously, if you're fishing in the tropics, you have considerably less to be concerned about. Regardless, make sure the working minimum and maximum temperatures are acceptable before using a high-resolution camera.
Sinking or Floating?
Consider if the first underwater camera you see is appropriate for the intended purpose: bottom fishing, trolling, and swimming.
Some underwater cameras come with a bracket to secure them to the underside of your boat or kayak. These are permanently in place and have a wide field of view, with the cable leading to the onboard monitor.
Other types of underwater fishing cameras follow your boat at various depths for trolling. Make sure this camera model can sink, swim, or float as necessary to complement your fishing.
The final style is a variation on the preceding two, attaching to the actual line for some up-close, eyes on the hook action.
Battery Life
Underwater cameras have a rechargeable battery that both powers the camera and displays the image. When you're away from a power source on long days out on the water, your next best friend is battery life.
The battery's quality is critical, especially when looking at higher resolution and bigger displays. If the underwater fishing camera is linked to an app, it may also need to supply power for LEDs and connectivity features.
LED lights have little effect on battery life, so you may turn them on and off. Look for a camera with a duration of up to 8 hours of video recording. It will let you make the most of your entire day out on the water. Examine power banks that charge via USB and add extra juice using to extend their longevity underwater cameras.
Durability
Of course, your underwater camera needs to be durable. A key indicator of quality is if the manufacturer specifies an operating temperature range. If so, check where it falls in relation to yours and look for a design that can withstand those conditions without any issues.
In addition, inspect how well-protected the screen is from water damage since you'll need it functional at all times when fishing or hunting with a waterproof camera – even if it's not submerged! Even going out on days below freezing won't harm most high-resolution cameras as long as they're properly sealed against moisture infiltration.
How To Care For Your Underwater Camera:
How to prepare the camera before the first underwater use:
Use a blunt instrument such as the rounded edge of a credit card to remove the O-ring from your housing (if it is in place). Do not use knives or scissors to remove the O-ring because you will risk damaging the rubber. Wipe away any debris in the groove where the O-ring sits after removing it. Tissue is sufficient, but using a lint-free cloth is preferable;
Under a bright light, inspect the groove for any grime, sand, or even hair and remove it. You can proceed to the O-ring after you're confident that the groove is clean. Pinch the O-ring with your index finger and thumb and rotate your grip around it to check for grit or other foreign particles. This is best done using tissue since you'll be removing material as you go;
After the O-ring has been cleaned and smoothed, a small amount of silicone grease should be applied along its entire length and inserted into its appropriate location on the housing. To maintain the O-ring in good working order, you are only using a tiny amount of silicone grease, which has no role in "producing the seal"! Because the seal is produced by the O-ring being forced to expand within the groove by water pressure, it's critical that you care for it;
Take a square of kitchen wrap or tissue and fold it into a tiny square. Place it inside the housing and zip it shut. Place the housing in a wash tank to verify for bubbles. If no bubbles are visible, you may go diving with your housing – please note that experts did not place the camera in the casing. You're only using tissue as protection while underwater;
A clean, lubricated O-ring will avoid leaks and floods. Look for any visible droplets of water inside the housing after your dive. If you have access to an air gun, dry the housing with one or use a towel to dry it completely using freshwater;
Locate the housing and check to see if the tissue is still moist. If your housing leaked on this very first dive, at least your camera was not damaged! You're ready to go if the tissue is dry;
Repairs to Your Underwater Camera
A common problem with underwater fishing cameras is that they break down after repeated use. Fortunately, many of the parts are easy to replace yourself if you have a little know-how and some time on your hands.
Some possible replacements include LCD screens, light lenses, tripod mounts among others depending on model type.
Many cameras can also be fitted with external lights which help illuminate objects in dark waters making them easier to spot for divers as well as photographers who might want to take pictures using this device instead of just recording movies/videos of their adventures.
Have problems with your underwater fishing cameras? Does it take blurry images or won't turn on anymore even though you've only had it for 6 months?
Underwater fishing cameras are expensive items so if yours breaks down after little use there might be something wrong beyond simple user error. Before throwing out your equipment consider getting some professional help from someone who knows what they are doing. They'll put in the hard work needed to figure out what's wrong, fix it and return your old gadget back to you in working order.
Waterproof Housings
When buying a new underwater fishing camera compare the different types of waterproof housings available and choose what suits your needs best.
For example, if you want something that can withstand deep-water depths down to 100 feet or more then  look for "fully submersible" models instead of just those capable of withstanding water up to certain heights. This will save time and effort during future repairs since it's easier to find parts meant specifically for this type than one designed only for shallow waters.
You also don't have to worry about spending extra money on aftermarket equipment because  most cameras come equipped with at least some degree of protection out-of-the-box making them useful in any environment without additional modifications needed beforehand. Be sure to check the depth rating on the camera's box when you purchase it and compare this to your planned depths before making any final decisions.
The type of housing used is also important for another reason: anti-fogging. It would be annoying if you were recording in gorgeous, clear waters only to find that what was once a beautiful scene has been reduced to nothing but white blobs after pulling out your device since everything appeared foggy instead.
This won't happen with all models (some come pre-treated) so make sure yours doesn't have this problem beforehand by reading reviews from other users or asking questions directly from suppliers/manufacturers about how well their products perform under different conditions i.e., shallow vs deepwater use, etc.
Check more guides about cameras:
Indicators for Choosing an Underwater Fishing Camera
Selecting the right underwater fishing camera is crucial for anglers who wish to improve their fishing experience and success. To make an informed decision, it is essential to consider various indicators that can significantly impact the camera's performance in underwater conditions. In the following table, we outline these key indicators to help you in choosing the most suitable underwater fishing camera for your needs.
| Indicator | Description |
| --- | --- |
| Waterproof Rating | The depth up to which the camera remains waterproof. |
| Resolution | The clarity and sharpness of the images captured by the camera. |
| Field of View (FOV) | The extent of the underwater area visible in a single frame. |
| Battery Life | Duration of continuous usage before the battery depletes. |
| Low-Light Performance | The camera's ability to capture clear images in low-light conditions. |
| Additional Features | Extra functionalities such as built-in GPS, fish finding technology, etc. |
The table above highlights the key indicators that you should consider while choosing an underwater fishing camera:
Waterproof Rating: This is a crucial factor as it determines the depth to which the camera can remain waterproof. Choose a camera with a waterproof rating that matches the depths you plan to fish in, ensuring it remains functional and protected underwater.
Resolution: The resolution of the camera impacts the quality and clarity of the images it captures. Higher resolutions, such as 1080p or 4K, will provide clearer and more detailed underwater visuals.
Field of View (FOV): A wider field of view allows you to capture more of the underwater environment in a single frame. A larger FOV provides better situational awareness and helps you spot more fish.
Battery Life: Consider the battery life of the camera, especially if you plan on spending long hours fishing. A camera with a longer battery life will ensure you don't miss out on capturing exciting moments.
Low-Light Performance: Fishing during early morning or late evening might involve low-light conditions. An underwater camera with excellent low-light performance will still deliver clear images when light is limited.
Additional Features: Some underwater fishing cameras come with extra features like built-in GPS, fish finders, or smartphone integration. Assess which additional features align with your fishing requirements.
By taking these indicators into account and understanding your specific fishing needs, you can make a well-informed decision and choose an underwater fishing camera that enhances your fishing experience and increases your chances of successful catches.
---
FAQ
Do underwater fish cameras work?
Yes. The best underwater fishing cameras work very well! They make it possible for you to see what's going on above and under the surface of the water. They allow you to see the underside of your fishing boat and even catch a glimpse at how much fish activity is going on below.
How do you use an underwater camera for fishing?
There are several different styles of underwater cameras for fishing, but they all share the same basic idea. Each camera is waterproof and usually shockproof too. You place them in or on your boat (or body) so that you can record what's going on below it while you're out there trolling around looking for fish to catch!
What is the best camera for spearfishing?
With such spectacular spearfishing sites, it's no surprise that the popularity of underwater activities has increased. The increase in water sports activity has even inspired a marketing intelligence firm to predict that cameras will be used underwater in the future.
Some of the best cameras for spearfishing are [3]:
Campark ACT74 Action Camera. This is a fine place to start if you're new to underwater photography and don't want to spend a fortune. This Campark camera is a good place to start if you're just getting started with underwater filming. This model will set you back between $50 and $60, which is one of the most affordable action cameras on the market. The Campark ACT74 is a bargain when it comes to video recording, and despite its low price, it can record in super 4K, is waterproof up to 33 feet, and has a two-inch HD screen with a 170-degree wide-angle lens. A
Campark74 already includes useful accessories such as dual rechargeable batteries, a charging cable, clip mounts, brackets, and a waterproof case that raises the waterproof limit to 98 feet;
Coleman C40WP Waterproof Digital Camera. The Coleman C40WP is a user-friendly digital camera that offers novice and seasoned spearfishers alike features such as waterproofing and price efficiency. The C40WP's small and lightweight design makes it simple to operate. It has a 2.5-inch LCD and touchscreen display for basic usage, as well as full HD capabilities for still images and 1080p videos. Its shockproof and freeze-proof features also allow you to take photos in temperatures as low as 14 degrees Fahrenheit with no extra protection;
Olympus Tough TG-6. If your idea of underwater enjoyment includes some huge waves and more aggressive hunting, you'll need an equally strong camera. The Olympus Tough TG-6 is a camera designed for such demanding activities. The TG-6, which features an all-metal body with double locks on each hatch, is purportedly freeze-proof, crushproof, dustproof, shockproof up to 7 feet, and – most significantly for spearfishers – waterproof. The TG-6 is the most affordable, though it isn't the sleekest or most expensive of the group. What you're paying for is the somewhat analog appearance of this handheld camera, which helps to keep it more durable than others. Aside from a 12-MP sensor and anti-reflective coating, the TG-6 includes new white balance modes that aid in color capture and preservation underwater;
How do you video fish underwater?
One of the most popular fishing activities is underwater fishing. It can be done in various ways, but it usually implies catching fish by attracting them with bait or luring. The best way to do this is to use an underwater camera (for example, GoPro) connected to a drone that will fly over water and record everything happening below it while you are controlling its movement from your kayak.
As a result, you will have a great video from all angles. In the case of using GoPro as an underwater camera for fishing, most anglers mount it on their fishing rods to film the catch and fight fish action. The footage is usually very impressive! You can also use other models or even waterproof cameras with good results – there are so many options available today! To attract more attention to your videos try adding music in the post-production stage.
However, if you don't want to bother with filming at all then just take some photos during the trip by attaching a small digital camera (that has got a timer feature) somewhere near where you sit when fishing from shore or from the boat.
How do I record myself fishing?
The best way to do this is by using a GoPro camera and attaching it somewhere on your body (or, for example, the fishing rod). The good thing about such cameras is that they can record video even underwater – so you will be able to make some amazing videos of yourself catching fish.
If you don't want to use bulky devices like GoPro then there are many other options available: waterproof digital cameras or simple action cams with different degrees of protection against water penetration.
Another option would be taking pictures while fishing from shore or from the boat – but if you really want good results consider making selfies because these have much better quality than regular photos taken in front of beautiful scenery. To improve picture visibility attach LED lighting strips around your fishing rod.
However, if you are more experienced in video editing then consider using other devices like smartwatches (for example, Apple Watch) or waterproof smartphones that can be used for filming while floating on the water surface by attaching them to a selfie stick. To get stable footage it is advisable to attach your phone's case to an extendable monopod pole and use both hands for operating it instead of holding it with one hand only (which will result in shaky images).
How do you attach a camera to a fishing line?
You can do this by using a small digital camera (with a timer) and a fishing line. The good thing about such cameras is that they are not expensive and very easy to carry around – so you will be able to make some interesting videos even if you don't have GoPro or other action cams with you at all times.
To record stable footage it would be advisable to attach your phone's case to an extendable monopod pole and use both hands for operating it instead of holding it with one hand only (which will result in shaky images).
For example, there are many devices like Sony RX100 Digital Camera. However, keep in mind that each model has its own benefits and drawbacks – so check carefully before choosing the best option for your needs.
Can underwater fishing cameras work in saltwater?
It depends on the camera. For example, you may use your GoFish Cam in both fresh and saltwater settings, and it can capture underwater video when casting, trolling, bottom fishing, and float fishing [4].
Can underwater fishing cameras work at night?
Once again it depends on the camera type and features. For example, the RICANK Fish Finder has 8 bright LEDs. In addition, the video camera is functional in low temperatures below the ice and in deep seas. Although they aren't infrared LEDs, these will also function during night fishing. The video camera and display are powered by rechargeable batteries that last up to 8 hours underwater and in the aquatic world's delicious inhabitants [5].
Do the IR lights of underwater cameras scare fish?
Infrared light, on the other hand, is not visible to humans or fish and therefore may be used in underwater cameras that can't use visible light. While infrared does not scare fish, it has a difficult time traveling in water [6].
Does Go Fish Cam float?
A free-float attachment is included with each GoFish Cam to allow you to Live-Stream footage directly to your mobile app while float fishing [7]. Without this accessory, the camera doesn't float! When you're fishing, the camera is built to have a minimal-positive buoyancy so that your bait may freely move. It does not float on its own and has a sluggish sinking rate when placed in the water alone. Whatever lure you are using, it is intended to follow in its wake.
How long does the GoFish Cam battery last?
The camera is powered by 2 internal lithium-ion batteries. It's rechargeable via micro USB. There are two internal lithium-ion batteries in the device. When recording at 1080p (60 frames per second) and 60 seconds per frame, a full charge allows up to 1.5 hours of footage. The camera's resolution can be lowered to 1080p x 30fps or 720p x 60fps, allowing for approximately 2 hours of filming [8].
How do you update GoFish Cam?
If you are using a mobile device, there is an app available for iOS or Android devices. It has several features including Live-Streaming video directly to your phone while fishing.
GoFish Cam can also be updated via USB connection with any PC running Windows XP SP+/Vista/Win-32bit version of Internet Explorer after installing the included drivers and GoSoftWorks Studio Software (a free download).
This software allows users to easily update the firmware as well as customize settings like time stamp location, camera nametag, light color options, etc. Everything else will happen automatically once powered on again within this program's interface.
How do you take a good carp picture?
Here is how you should do this [9]:
Slide your hands underneath the fish
First, kneel down and get ready to slide your hands under the carp;
Slide the hand nearest the head sideways from the mouth towards the gills (being very careful of the eye on the underside of the fish);
Grasp either side of the front pectoral fin on the upper side of the carp;
Slide your hand nearest the tail underneath the tail and round until your fingers can grasp either side of the anal fin.
Be very careful not to lift or catch scales when doing this;
Lift the carp
On a big carp, you have to really reach round a long way. To make things easier, tilt the carp away from you slightly with your wrists to bring the target fins closer;
Then move from kneeling into the squat position while holding the carp (if this sounds tricky, that's because it is!).
With your hands correctly positioned underneath the carp, lift it slightly and get one leg into a squat position;
Now raise the carp further and rest your forearm on the squatting leg to stabilize the carp;
Once you are happy, go for the other leg and rest your forearm on the leg too. Don't put your hand too far away from the knee as it's too hard on the wrists. This is not about strength, it's about technique. Most adults should be able to maintain this position for 20 – 30 seconds before the wrists give up;
Hold the carp for the camera shooting:
Hold the fish directly over the mat and in front of you;
Rest your elbows on your knees to support the weight of the carp;
Keep a good grip on the fins and use your hands to keep the carp in a balanced and upright position;
Do underwater cameras scare fish?
Unless you strike the lights when fish are looking at the camera, it won't scare them away. They just flee after the lights have been switched on! If they come along after the lights have been on, they don't mind. The camera is a nice addition to the flasher, but it will never take its place [10].
Can a waterproof camera go underwater?
Yes, but not all of them can. The models that are fully submersible allow you to go down up to 100ft/30m underwater without worrying about water seeping into the case and ruining your camera. However, it is more complicated than just buying any waterproof model out there on the market! Always remember to read reviews first before making a purchase decision.
What are the benefits of using underwater fishing cameras?
Underwater fishing cameras offer several advantages, such as providing real-time views of underwater activity, helping you locate fish and their habitats, improving your fishing techniques, and capturing exciting moments for later review or sharing.
Are underwater fishing cameras suitable for ice fishing?
Yes, many underwater fishing cameras are designed to withstand cold temperatures and can be used for ice fishing. These cameras can provide valuable insights into the fish's behavior beneath the ice, helping you target the right spots and increase your chances of a successful catch.
Do underwater fishing cameras have night vision capabilities?
Some underwater fishing cameras come equipped with night vision features, allowing you to continue your fishing adventures even in low-light or dark conditions. These cameras use infrared (IR) lights to illuminate the surroundings and provide visibility under the water.
Can I use an underwater fishing camera in murky water?
Yes, underwater fishing cameras are designed to work in various water conditions, including murky or turbid waters. However, the visibility may be reduced compared to clear waters, so it's essential to choose a camera with higher resolution and sensitivity for better performance in such conditions.
How deep can underwater fishing cameras submerge?
The depth to which underwater fishing cameras can submerge depends on the specific model and its water-resistant rating. Most cameras can typically withstand depths ranging from 50 to 150 feet (15 to 45 meters). Always check the manufacturer's specifications to ensure the camera's depth rating meets your needs.
Do underwater fishing cameras float if accidentally dropped in the water?
Not all underwater fishing cameras float, so it's crucial to verify the camera's floating capabilities before using it near water. Some cameras may come with floating accessories or additional attachments to prevent accidental loss in case they drop into the water.
Can I live stream footage from an underwater fishing camera?
Many modern underwater fishing cameras have built-in Wi-Fi or Bluetooth connectivity, allowing you to live stream the footage to your smartphone or other compatible devices. This feature enables real-time monitoring and sharing of your fishing experiences with friends or fellow anglers.
How long does the battery of an underwater fishing camera last?
Battery life varies depending on the camera's model and usage patterns. Some cameras can last several hours on a single charge, while others may have extended battery life options or replaceable batteries to prolong usage time. Always check the specifications for the camera's battery duration.
Are underwater fishing cameras durable enough to withstand rough fishing conditions?
Yes, underwater fishing cameras are designed to be durable and rugged to withstand the rigors of fishing in various environments. They are often built with sturdy materials and may have additional protective features like shockproof and waterproof casings.
Do underwater fishing cameras have recording features?
Yes, most underwater fishing cameras come with recording capabilities, allowing you to save videos and images of your fishing expeditions. These recordings can be valuable for reviewing your fishing techniques, sharing your experiences, or even creating content for social media or video platforms.
Useful Video: Top 5 Best Underwater Camera For Ice Fishing Review
Final thoughts
Hopefully, this guide has helped you find the perfect underwater fishing camera for your needs. If not, please contact us and we will be more than happy to help! Remember that these cameras are just one tool in a full kit of tools for your next excursion into the deep blue sea. Make sure you have all of the equipment necessary when traveling so there is no chance of running out at any point during your trip.
---
References:
https://www.globosurfer.com/best-underwater-fishing-cameras
https://shotkit.com/underwater-fishing-camera
https://www.noobspearo.com/best-cameras-for-underwater-spearfishing-2021
https://gofishcam.com
https://shotkit.com/underwater-fishing-camera
https://1source.basspro.com/news-tips/ice-fishing/23829/underwater-camera-buyers-guide
https://gofishcam.com/pages/live-stream
https://gofishcam.com/pages/support
https://www.frenchcarpandcats.com/how-to-safely-hold-and-lift-a-carp-for-a-photo
https://www.iceshanty.com/ice_fishing/index.php?topic=144567.0