SmugMug is one of the most popular online photo-sharing and hosting platforms. Millions of people use it to store and share their photos with friends and family. If you're one of those people, you may have wondered how to download your SmugMug photos. In this guide, we'll answer that question and provide useful tips on how to download your photos quickly and easily. Let's get started!
What is SmugMug?
It was founded in 2002 by brothers Chris and Don MacAskill and has since become one of the most popular online image sharing services available today.
The platform provides users with both free and paid plans, each of which are tailored to meet diverse needs. In addition to image storage, SmugMug also offers a suite of features that help you manage your photos, such as editing tools, galleries for organizing images into collections, metadata management for easy searchability, printing options for physical copies of your photos and more. With its comprehensive feature set, SmugMug helps photographers easily showcase their work while protecting their copyright.
SmugMug also helps users monetize their photography by providing integrated ecommerce options that make it simple to sell prints and digital downloads of your images. Additionally, SmugMug offers a variety of customization options so you can create an online portfolio that suits your aesthetic and branding needs. Finally, the platform is optimized for mobile use so you can manage galleries and upload photos from anywhere. [1]
How to Download Photos From SmugMug
One thing new users may be wondering is whether or not they can download photos from SmugMug. The answer is yes, you can easily download your photos from the platform with just a few clicks. As an account owner, you always have an option to download your own photos and share them with others. In this section we will show you how to do so.
Downloading Select Images
Let's check out the process for downloading specific photos from SmugMug. To get started, log in to your SmugMug account and navigate to the album containing the image you wish to download.
Once there, click on the photo you would like to download. This will open a full-screen view of the image. From here, look near the top right corner of your screen and you should see a button that says "Download" with an arrow pointing downward (on desktop platforms). On mobile devices look near the bottom of your screen for a similar icon. Click this button and it will prompt you to either save or share your photo depending on what device or platform you are using.
If you want your visitors to have an option to download your photos, you can also enable the "Download" button in your Gallery Protection Settings. This will let your visitors download the photos from their own devices.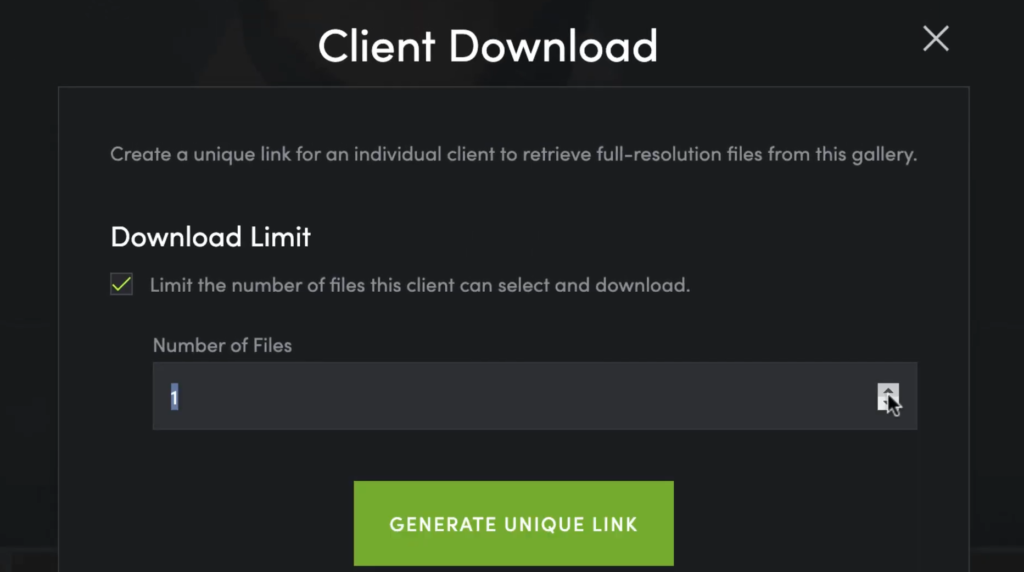 Downloading Multiple Images
Now let's look at how to quickly and easily download multiple images from SmugMug. Sometimes you may need to download multiple photos at once, such as if you are migrating images from one account to another. To get started, go ahead and log in to your SmugMug account.
Once logged in, navigate over to the 'Organize' button at the top of your page. Select it to open a list of the galleries on your account.
Now you can either select the gallery that you want to download images from, or you can select multiple galleries at once by holding down the Ctrl key and clicking on each gallery. Once you have the galleries selected, click the 'Download Gallery' button and wait for the photos to download.
Your photos will be downloaded in the .zip file format. Once you have the downloaded images, you can easily upload them to another SmugMug account or anywhere else you wish. You will also receive a download link in your email which you can forward to anyone else who may need access to the images.
Now, to allow your visitors to download multiple images from your galleries, go to the 'Customize' menu and select 'Gallery Settings'. Check the 'Allow Visitors to Download Images' box under 'Downloads', and then click 'Save Changes'.
Once this setting is enabled, anyone visiting your galleries can check the boxes next to one or multiple images and will be able to download all of them at once as a .zip file. The link for downloading will also appear in their email address so they can easily access it again later if needed.
For extra privacy, you can allow visitors to download your pictures while having to enter a password beforehand. SmugMug allows you to set a password for each gallery, so anyone attempting to download the photos needs to enter it first.
That's it! You now know how to quickly and easily download multiple images from SmugMug in a few simple steps. With this knowledge, you can easily manage your photos and galleries on SmugMug with ease. So what are you waiting for? Get started now! [2], [3]
Sharing Your SmugMug Images
Besides downloading images from SmugMug, you can also easily share them with family and friends. It's actually very simple to do.
Sharing an individual photo
To share your picture, head to the image you want to share and click on the 'Share' button. This will open the sharing menu with options such as Facebook, Twitter, Email or copying the link to use with other services.
To share your images via email, simply enter the recipient's name and email address into the provided fields and hit 'Send'. The image will then be emailed to them directly. You can also add a personalized message if you want.
If you want to copy the link of an image instead, all you need to do is click on it from your gallery view and then copy it from your browser's URL bar. Paste this link anywhere online that allows you to embed photos or videos for others to view.
You can also get an embed code to embed the image directly onto a website or blog post. This is especially useful if you want to showcase your images on your own page. To get the embed code, click on the 'Embed' button at the top of your photo and copy the HTML or BB code provided.
Once you have this code, choose the file format, size and other basics for displaying your image. Then simply paste the embed code into the desired web page or blog post and you're good to go!
Sharing a whole gallery
You also can easily share a whole gallery instead of just sharing individual images. To do so, head over to the specific Gallery you'd like to share and click on the 'Share' button.
This will open up the sharing menu with options such as Email, Facebook, Twitter or copying the link. Just choose whatever option works best for you and follow the same directions as before – either enter your recipient's name and email address into the provided fields or copy/paste the link anywhere online that allows embedding photos or videos.
You can also share your galleries as a slideshow directly from SmugMug. To do so, go to your gallery and click on the 'Share' button. Then select the option for 'Slideshow'. On the next page, you'll be able to customize how your slideshow will look, such as adding a title or logo as well as choosing from various transition effects and music. [4]
FAQ
Does SmugMug sell digital downloads?
Yes, SmugMug does offer digital downloads. When you purchase a photo from SmugMug, you'll be given the option to download it as a JPEG or PNG file. You can then save the digital copy of your photo to your computer or other device for future reference. The downloaded files will remain available in your account until you delete them manually.
In addition to downloading photos, SmugMug also offers prints and canvas products that can be mailed directly to your address. All orders are printed at high-quality facilities and are produced using professional-grade materials for long-lasting results.
Can people download photos from SmugMug?
Yes, people can download photos from SmugMug. To do so, they must first create an account with a valid email address and password. Once logged in, users can select the image they want to download. On the right side of the page, there is a "Downloads" section where users can choose their desired size and format for downloading. They may also add watermarks or frames if desired before clicking on "Save" to start downloading the photo. For larger resolutions such as RAW files, Premium or Pro memberships may be required depending on what type of plan you have purchased from SmugMug.
You can also let your visitors download photos from your SmugMug account by enabling the Download option in the Privacy & Sharing settings. This will allow them to download one photo at a time with no watermarks or frames.
How do I download all photos from the SmugMug gallery?
To download all photos from your SmugMug gallery, first log into your SmugMug account. Once you are logged in, go to the Gallery settings and allow downloads from the Settings tab.
Once that is enabled, select the Gallery Customization to open the list of all photos in the Gallery. Click on "Select All" to select all of the pictures in the list and then click on "Download".
You will be asked if you want to download all images or just the selected images, choose "All Photos" and wait while your chosen images are compressed into a ZIP file. Once that is finished downloading, you can unzip it to access all of your photos. Enjoy!
How do I download pictures from SmugMug to my iPhone?
To download pictures from SmugMug to your iPhone, you will need to install the SmugMug mobile app. Once installed and logged in, you can select the photo or photos that you want to save to your device and tap the 'Share' icon (three-dot icon). This will display a list of sharing options including 'Save Image' which will save it directly on your device. You can also share via email, text message, and other social media platforms. You can also easily download photos from your gallery by long pressing on the image until you see an option to 'Save Image'.
It is also possible to download photos from web browsers by clicking on the 'Download' button in the top right corner of your photo viewer. This will open a dialogue box allowing you to select where you want to save it with options such as Camera roll, Dropbox and more.
Can I transfer photos from SmugMug to Google Photos?
Yes! You can easily transfer photos from SmugMug to Google Photos. As of now, it's the only available option for transfer from SmugMug to Google Photos. Head to the Privacy tab in the SmugMug settings page and click "Access your Data" from the submenu. Click "Export Your Data" and select "Google Photos" as the destination for your images. You'll then be given a link to download your photos in a zip folder, which you can open and upload into Google Photos.
You can also import photos from Google Photos in the same way, but by choosing 'Import' instead of 'Export'. Just choose Google Photos as the source, click "Import Your Data" and enter your Google credentials to connect your account. SmugMug will then take a few minutes to upload all of the images from your Google Drive or Dropbox into the connected SmugMug account. You can also select specific albums and photos to transfer, so if you want only certain images transferred, you can do that.
Useful Video: How to download your photos – Smugmug Quick Tip
Conclusion
SmugMug is one of the most popular online photo sharing sites, so it's no wonder that many people are looking for ways to download their SmugMug photos. We have discussed some of the ways you can do this, and provided tips and resources to help make the process easier. There is no one-size-fits-all solution to downloading your photos from SmugMug, so it's important to consider all the options available. Hopefully this guide has helped you find a method that works best for you.
With this guide, you should now have an understanding of the different options available to you when downloading your SmugMug photos. From the manual process of copying and pasting your images, to using third-party downloaders or plugins from within SmugMug itself, there are a number of ways to get the job done.
Whichever method you choose, be sure to check out our other guides on managing and organizing your photos for additional advice. And remember: always backup your photos! With regular backups in place, you can rest assured that your precious memories won't be lost forever!
References
https://www.smugmughelp.com/en
https://www.smugmughelp.com/en/articles/318-download-photos-from-my-smugmug-site
https://www.smugmughelp.com/en/articles/328-download-several-images-in-a-gallery
https://www.smugmughelp.com/en/articles/406-share-my-photos